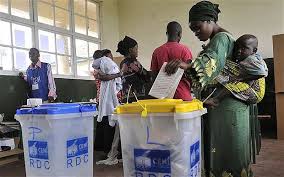 The current debate in the Democratic Republic of Congo (DRC) is focussed on constitutional reform, amendment of the existing electoral law, population census, creation of new territorial entities, and mandate of the electoral commission which are key elements in the next presidential elections. The governing party has been seeking a third term for the sitting president and may use either or both "strategies" for this purpose. Seeking a third presidential term is unconstitutional, and none of the above means can justify it.
Though CDHD welcomes these initiatives as important factors to the advancement of the democratisation process, the organisation warns that Congolese and the international community should be cautious since  the ruling party might have been making these political initiative for purely electoral purposes. 
The creation new provinces is one of government initiative that needs to be analysed cautiously. 
In March 2015, the Congolese national assembly adopted a provision creating new provinces by dividing the existing ones. Therefore, the DRC passes from 11 to 26 provinces. In this regards the following questions may be asked:   
Why has the government decided to create new provinces just few months before the elections?
How are these new entities going to be financed and administratively organised during this electoral moment?
CDHD beleives that the creation of these new entities at this moment might be a burden and complicate more the organisation of the upcoming general elections.