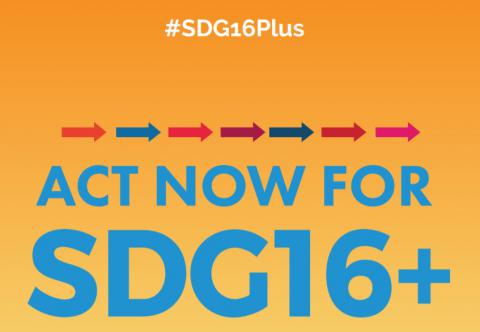 The CDHD joined organisations to support the call to action for the advancement of the SDG16+
Our world before COVID-19 was in crisis, marked by growing inequality and uneven concentration of power, failing institutions, and a weakened multilateral system. More than half a million people continue to die from violence each year, with half of the world's children and at least a third of its women being victims of violence. Child marriage, female genital mutilation, modern slavery, and other abuses remain commonplace. More than five billion people—two-thirds of the world's population—lack meaningful access to justice.
The COVID-19 pandemic is now testing humanity's resilience to the extreme, exposing and reinforcing long-standing grievances, injustices, inequalities and fragility around the world. Human development is on course to decline this year for the first time since 1990. We see widespread protests in cities around the world, igniting calls for justice for all people. A growing economic crisis and political, social, and cultural dislocation are hurting billions of people, especially those who are already vulnerable or living in fragile and conflict-affected countries. As lockdowns are lifted, rising frustrations and unmet grievances could fuel further polarization, social unrest, fear and desperation. Amid increasing national tensions, global cooperation and our ability for collective action are facing renewed pressure.
It is now more clear than ever how crucially important national and local action for peace, justice and inclusion are for our common future. Even as the SDG16+ targets were being negotiated, we knew that their implementation would be demanding and critical to unlocking the 2030 Agenda as a whole. Without reduced inequality, violence, injustice and corruption, it will be impossible to make the necessary progress on global agendas such as education, health, gender equality, and climate change. The pandemic may push 60 million people into extreme poverty this year, setting in motion massive unemployment, a global economic crisis, and deepening inequality even further.